Our Recommendations
Enjoying great food is a big part of how we like to explore new places, and Hawaii is no exception. To spread the foodie love, we put together our top three food and drink recommendations across several categories including happy hour, beach bars, and "I just want a cheeseburger." We hope you'll try a few while you're in Oahu!
To make it easy to find our recommended eateries on the island, we put together a shareable Google Map with each location pinned for easy directions.
We look forward to hearing your food reviews!
Happy Hour
Doraku Sushi is located on the third floor of the Royal Hawaiian Center. Happy hour is everyday from 4:00 PM - 6:00 PM. Their happy hour menu is excellent with food and drink specials starting at just $3! Everyone will find something they like whether it's sushi or chicken wings. Reservations are highly recommended. $$
Maui Brewing Company has an impressive open-air space located in the Waikiki Beachcomber by Outrigger. Happy hour is everyday from 3:30 PM - 5:30 PM. You'll get $2 off beers (they have 36 on tap), $3 off select cocktails, 50% off select apps, and our personal favorite, $10 pizzas - menu here. Maui Brewing does not take reservations, and the wait times can be very long. We recommend calling ahead or swinging by before happy hour to put your name on the list. $$
DECK at the Queen Kapiolani Hotel has epic views of Diamond Head and daily happy hour from 3:00 PM - 5:00 PM to boot. Visiting during happy hour means you'll save on their appetizers and drinks - menu here. Reservations are highly recommended. $$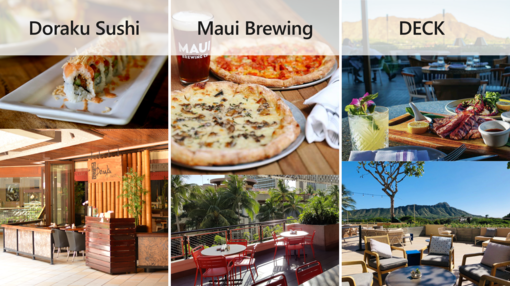 Dinner
Duke's is our favorite place to have dinner in Honolulu and also the site for our post-wedding brunch. There is usually live music, the food is always delicious, and it's right on the beach. We highly recommend enjoying the coconut shrimp paired with a coconut mojito - menu here. Duke's is extremely popular, so reservations are required to secure a table. $$$
Tiki's Grill and Bar has ocean views, great food at great prices, and live music, so we feel like it deserves our #2 spot. The coconut shrimp here was also tasty, and the volcano chicken wings were flying out of the kitchen like hotcakes - menu here. Tables at Tiki's are in high demand, so advance reservations are required. $$
Hula Grill is located right above Duke's. The restaurant's atmosphere is less energetic than their downstairs neighbor, but because of it's second floor location, it has a better ocean view and more space to relax and unwind. Hula Grill shares it's kitchen with Duke's, so you can expect the same quality of food - menu here. Reservations highly recommended. $$$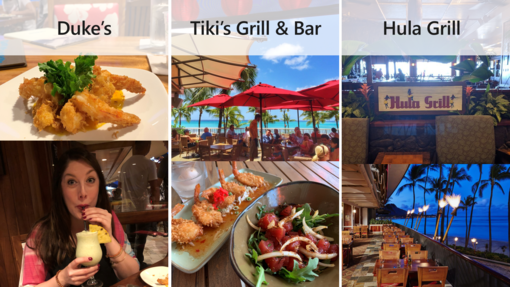 Breakfast & Brunch
The Veranda is located in the Moana Surfrider hotel. It has lovely views of Waikiki beach and the ocean. The breakfast items are pricey but delicious - we recommend the smoked salmon eggs benedict with a guava mimosa. You can also find mango pancakes on the menu. If you miss breakfast hours (6:30 AM - 11:00 AM), you can also visit for Afternoon Tea on Saturdays and Sundays which we tried during our last visit. We had a wonderful time eating tiny sandwiches and desserts by the beach ($50 per person). Reservations are not required for breakfast but highly recommended for Afternoon Tea (808-921-4600). $$$
Surf Lanai is most famous for it's Instagram-worthy Pink Palace Pancakes which we very much look forward to trying in August. Like Veranda, the menu items are pricey but worth it for enjoying ocean views at The Royal Hawaiian. Reservations are not required for breakfast. $$$
Kona Coffee Purveyors is a great option for an on-the-go breakfast. Stop by for a cup of Hawaiian-grown coffee paired with a San Francisco croissant. It's a grab-and-go cafe with a few tables out front if you want to sit and enjoy your coffee, so you can stop by anytime! $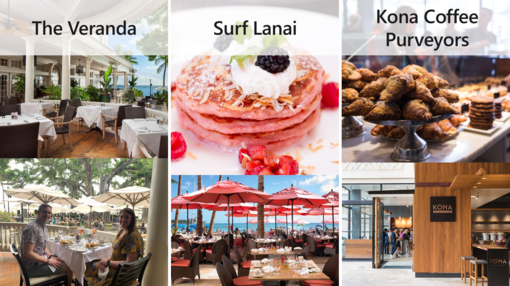 Cheap Eats
Musubi Cafe IYASUME is a can't miss spot if you are willing to try Spam and rice wrapped in seaweed. If Britt had to pick her favorite food in Hawaii, this would be it. Choose from combinations like teriyaki, cheese, or bacon-egg-avocado, great for breakfast. You can also get Japanese onigiri which are rice balls stuffed with various fillings - our favorite is tuna salad. You'll pay $2-4 per musubi depending on the flavor - menu here. Once you get your musubi, walk two blocks back to the beach and enjoy them with ocean views. Musubi Cafe IYASUME is a walk-up counter, but be prepared to wait in line for this cheap eat! It's worth it. Five stars. Go there now. $
Marugame Udon is the self-proclaimed master of handmade Udon noodles. This place is Instagram famous, so it always has a line. We can see why when you can get a bowl of delicious Udon for just $4. If Udon is not for you, they have lots of other snacks on the menu from teriyaki chicken ($9) to every type of tempura you can imagine ($2 per piece). It's a walk-up counter, but be prepared to wait for your Udon. $
Rainbow Drive-in serves traditional Hawaiian plate lunches which come with your choice of meat plus rice and macaroni salad. You get a big bang for your buck at $8-$10 per plate. Splurge for the Mix Plate ($10.50) to try BBQ beef, boneless chicken, and mahi mahi - menu here. It's located outside the central Waikiki area but worth the trip. This place can also get busy, but you can order online in advance and pick up your plate lunch when you arrive. $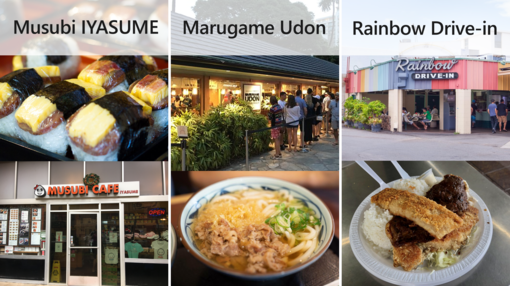 Beach Bars
Mai Tai Bar is known for it's... well... Mai Tais. You can't help but be drawn towards the pink chairs and the promise of delicious cocktail. Located at The Royal Hawaiian Hotel, it's a great spot for a casual lunch paired with their Royal Hawaiian Mai Tai. You may raise your eyebrows when you see the $20 price tag on the menu, but we thought it was one of the best Mai Tais we have ever had. Come back in the evening for daily live music by the beach. Reservations not required. $$
The Beach Bar at Moana Surfrider is where we'll host our Welcome Reception on Sunday evening. It's a beautiful spot situated beneath a massive banyan tree with a view of the ocean. We recommend ordering the poke nachos - they were incredibly delicious and paired perfectly with a tropical cocktail - menu here. You'll find daily live entertainment here each evening. Reservations not required. $$
Rumfire is a hidden gem tucked away in the Sheraton hotel. It has indoor and outdoor seating with stunning views of the ocean and Diamond Head. The food and drinks were great - menu here. We tried the Baked Bacon Cheese Scallion Fries which were crispy, cheesy, and gone in less than five minutes. Reservations not required. $$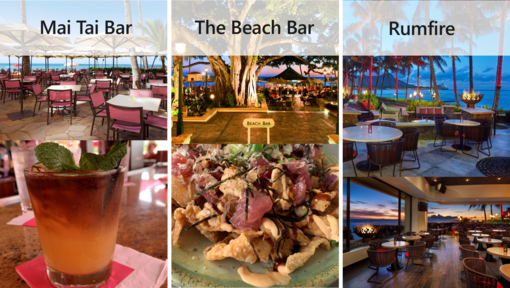 Sweet Treats
The Dole Whip. What can we say? It's creamy, refreshing, and pineappley. You need one. The most famous place to enjoy a Dole Whip is at the Dole Pineapple Plantation located near the North Shore of Oahu. However, you can also snag one at the Moana Surfrider hotel right in the heart of Waikiki. $
Shave Ice, not shaved ice. Don't be that tourist. There are tons of places to enjoy Hawaiian Shave Ice on the island including the famous Matsumoto's on the North Shore and Waiola's in Kapahuku. If you're in Waikiki, we saw some gorgeous looking treats coming out of Island Vintage Shave Ice located in the Royal Hawaiian Center. We recommend adding ice cream, because why not? $
Malasadas are Portuguese Fried Donuts and very popular in Hawaii. If you have time, we recommend making a trip to Leonard's Bakery to try one for yourself. You can stick to the classic version dusted in sugar or step outside the box to try one with a filling of your choice - menu here. $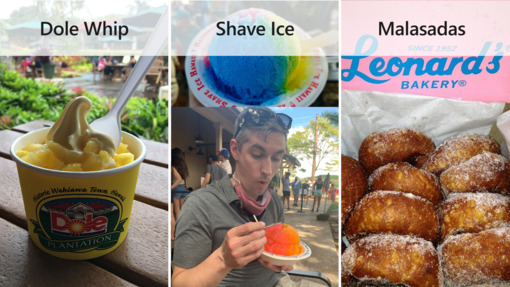 Breweries
Waikiki Brewing promises a taste of aloha when you visit their spot near the Hilton Hawaiian Village. You won't get ocean views, but you will enjoy beers, cocktails, and a full food menu with a good mix of American classics and a couple house favorites like pork belly fried rice. Visit during happy hour (2:00 PM - 5:00 PM and 8:00 PM to close) $5 drafts, $5 wells, and $2 off wine. Waikiki Brewing does not take reservations. $
Aloha Beer Company is in an urban location northwest of Waikiki, so you'll need to drive or Uber to get there. It's a locally owned and operated brewery with a cute beer garden complete with string lights. Visit for a beer, cocktail, wine, or small bites - menu here. Aloha Beer Company does not take reservations. $
Kona Brewing makes Wailua Wheat, a hard-to-find and unbelievably delicious passion fruit beer, which is reason enough to put them on the list. Britt is obsessed. Kona has a pub location east of Waikiki on a charming marina with a full food and drink menu. As of this writing, they are taking reservations for groups of 8 or more, but that may change as Hawaii continues their reopening journey. $$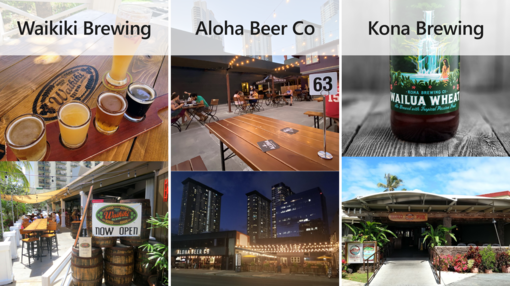 North Shore
Giovanni's Shrimp Truck may be the most-hyped food truck on the North Shore. They sell fresh shrimp plates with rice and macaroni salad - the garlic scampi is the most famous. If you don't do seafood, they also offer a garlic hot dog - menu here. You'll find Giovanni's nestled among a few other food trucks in Hale'iwa town on the North Shore. Is it worth the hype? Britt says yes, especially because you can watch wild chickens roaming around the area while you eat. Doug says maybe. You be the judge! Giovanni's is CASH ONLY, but if you forget, there is an ATM located across the street inside the McDonald's. We know from experience. $
Farm to Barn offers healthy brunch and lunch dishes, smaller crowds, and picnic table seating. You can enjoy a fresh acai bowl with tropical fruit or a bacon and sausage breakfast burrito, depending on your mood - menu here. We're also looking forward to trying their cold pressed juices when we visit in August. Farm to Barn does not take reservations. $
Hale'iwa Bowls is a cute shack where you can get the acai bowl of your dreams. Small bowls are $8 and large bowls are $10. You can add a variety of fruit toppings, nut butters, and even botanical supplements - menu here. Go crazy and get a coffee while you're at it! $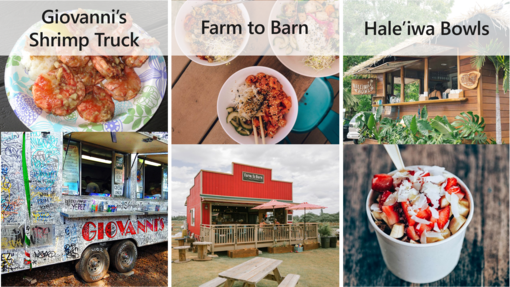 I Just Want a Cheeseburger
Cheesecake Factory is always busy in Waikiki. Why? Honestly, we don't know. I guess people need to get their cheesecake and chicken madeira. We think there are better food options in Waikiki, so don't come here unless it's a cheesecake emergency. In that case, we support you. Cheesecake Factory does not take reservations. $$
McDonald's. Ok, we get it. Sometimes you just need a cheeseburger. While you're here, it might be fun to try some of the exclusive Hawaii menu items like Spam or Portuguese sausage with rice and eggs, saimin (noodle dish), or a fried apple pie. We know you said you just wanted a cheeseburger, but we can't help it. $
Cheeseburger in Paradise is a magnet for unassuming tourists. Don't be lured in just because Two Pina Coladas lyrics and air conditioning are spilling out onto the sidewalk. Do they have cheeseburgers? Yes. Do they have $6 Mai Tais at happy hour? Yes. Ok, we might have talked ourselves into it. Cheeseburger in Paradise does not accept reservations. $$