Optional Activities
We look forward to spending our week in Oahu with family and friends. In addition to our official wedding events, we've scheduled a few optional activities that all wedding guests are invited to attend. Read on for details and what you need to know before you go.
Some activities require a rental car or advance ticket purchase, so plan ahead to secure your spot! Guests are responsible for individual transportation and ticket purchases.

To make it easy to find our group activities on the island, we put together a shareable Google Map with each location pinned for easy directions.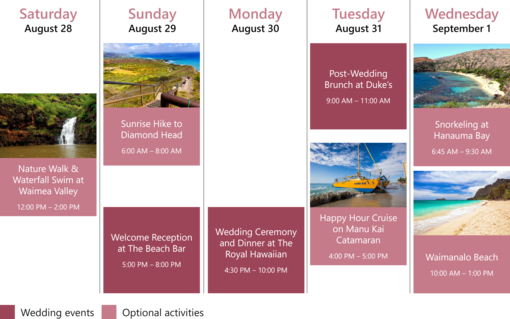 Nature Walk & Waterfall Swim at Waimea Valley
Saturday, August 28 at 12:00 PM - 2:00 PM
Waimea Valley is a historical nature park located on the North Shore of Oahu. Upon entering the park, visitors embark on a 1.5 mile roundtrip nature walk through botanical gardens and cultural sites. The main walkway is paved, but some of the gardens contain steps and steeper hills. At the end of the trail, you have the option to swim in Waimea Falls, a 45-foot waterfall into a 30-foot deep pool. Watch this video to see what it's like to visit (start at the 8:00 minute mark to see Waimea Valley).
What you need to know before you go:
- Advance ticket purchase is required; it's $20 per adult. Secure your ticket for Saturday, August 28 here.
- You'll need a car to get to Waimea Valley. It's about a 60-minute drive from Honolulu. Parking is available for Waimea Valley guests.
- Waimea Valley hours are 9:00 AM - 4:00 PM. We plan to arrive at 12:00 PM.
- Life jackets are required to swim in the waterfall but are included with your admission. Waterfall swimming ends at 3:30 PM.
- Food and drinks are available for purchase.
- Don't forget your mask!
- More FAQs and driving directions are available on the Waimea Valley website.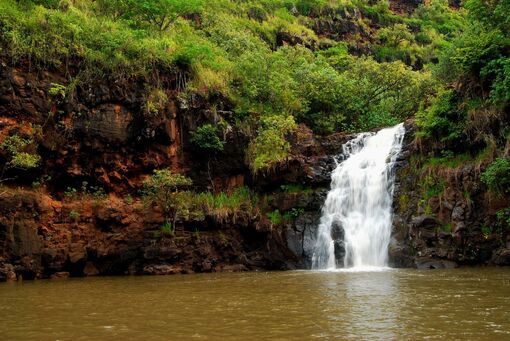 Sunrise Hike to Diamond Head
Sunday, August 29 at 6:00 AM (or 5:30 AM if you plan to run with Doug)
The hike to Diamond Head pays off with postcard views of southeastern Oahu from Koko Head to Wai'anae. From the parking lot on the crater floor, the trail to the summit is 0.8 mile one way and climbs 560 feet in elevation. There is a paved concrete walkway for a distance of 0.2 miles at the start of the hike, but the trail becomes uneven and steep, requiring caution and appropriate footwear. Portions of the trail involve steep stairways. Another portion of the trail goes through a long, narrow tunnel which is lighted.
There are two options for joining the hike:
1) 7 miles with Doug. If you're feeling ambitious, meet Doug in The Royal Hawaiian lobby at 5:30 AM to run the 2.5 miles to the trailhead and meet up with the rest of the group there at 6:00 AM. Then it's a 1.6 mile hike and a 2.5 mile run back to Waikiki. Not for the faint of heart or the hungover.
2) Meet at the trailhead. If you're ready to hike but running sounds like a tad too much for Sunday morning, you can also drive to the Diamond Head trailhead. We recommend arriving 10-15 minutes before 6:00 AM as there will be a line of cars waiting to be one of the first on the trail.
What you need to know before you go:
- It costs $10 to park plus $5 for each hiker. Credit card only - they do not accept cash. Advance ticket purchase is not required.
- Sneakers or tennis shoes work great for the hike. We do not recommend sandals as some of the trail is uneven and the metal stairs look like a stubbed toe waiting to happen.
- Bring water, because hydration, and your camera to capture the views!
- Bathrooms and shave ice await you at the end of the hike.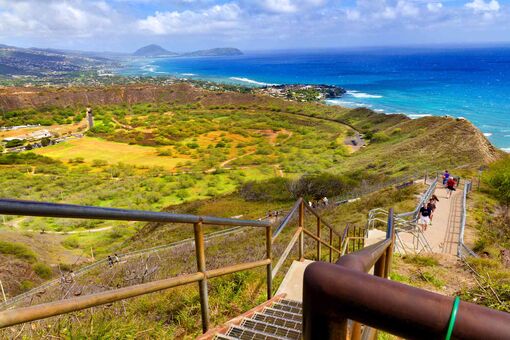 Happy Hour Cruise on Manu Kai Catamaran
Tuesday, August 31 at 4:00 PM - 5:00 PM (boarding at 3:30 PM)
Join us for a one-hour happy hour sail with drinks (alcoholic and non-alcoholic) included! The Manu Kai boarding process is directly from Waikiki Beach onto the catamaran which is parked in the shore break. You may get your toes wet as you step up the ladder, however, waves can also come through during boarding and get more than just your toes wet. Watch this video to see what it's like on the happy hour sail.
What you need to know before you go:
- Tickets are $30 per person; advance purchase is required. There are 24 spots available on each sail, so secure your spot early if you'd like to join us. Purchase your ticket for August 31 here.
- Manu Kai boards directly from Waikiki Beach, in front of the Outrigger Resort. You can't miss the yellow catamaran!
- Arrive 30 minutes early to begin boarding. We've heard they leave right on time and won't wait for stragglers.
- We recommend skipping this activity if you are prone to motion sickness. The waves can be rough, especially close to shore.
- You might get wet while boarding and/or during the sail.
- There is a small bathroom onboard, but it requires crew assistance. We recommend using the facilities before the sail.
- Don't forget your sunscreen!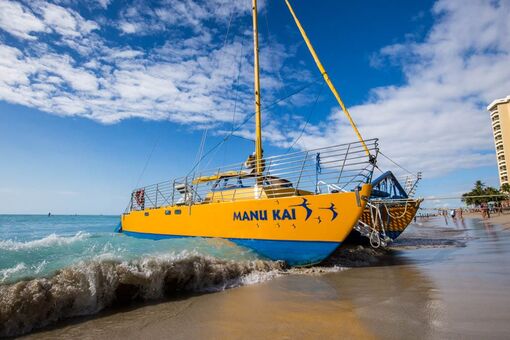 Snorkeling at Hanauma Bay
Wednesday, September 1 at 6:45 AM - 9:30 AM
Hanauma Bay (or curved bay) is a former volcanic crater that became a protected marine life conservation area in 1967. Since then, it's become an underwater park for snorkel enthusiasts, swimmers and anyone desiring to see more than 400 species of Hawaiian fishes including Hawaii's state fish the humuhumunukunukuapua'a, turtles and other marine life. Because it's a great spot for beginners, it is incredibly popular and requires advance planning.
What you need to know before you go:

- Hanauma Bay is currently operating in a phased reopening approach which means they are limiting park entry to 1,000 tickets per day and taking reservations two days in advance.
- Reservations for Wednesday, September 1 will become available on Monday, August 30 at 7:00 AM HST. They have been selling out in 5 minutes, so set your alarm if you'd like to join us! HERE is the link to reserve your spot.
- We plan to get the earliest reservation at 7:00 AM (which feels like 10:00 AM Pacific, so it's not so bad!).
- Cost is $25 per person for park entry plus $3 per car for parking (CASH ONLY!).
- You have two options for snorkel gear. You can purchase a set at any ABC Store around Waikiki for about $15, or you can rent a set at the park for $20.
- There is a mandatory 9-minute safety video all guests must watch before entering the park. You'll get an assigned a viewing time when you make your reservation.
- Remember to bring Reef Safe sunscreen to protect the fishies.
- The snack bar and bathrooms are open.
- More FAQs are available on the Hanauma Bay website.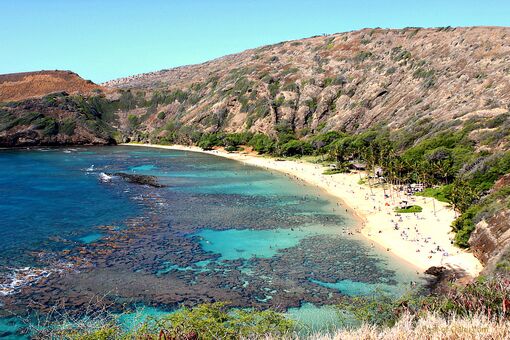 Waimanalo Beach
Wednesday, September 1 at 10:00 AM - 1:00 PM
After we get our fill of snorkeling at Hanauma Bay, we plan to grab some snacks and head to Waimanalo Beach Park for some sand, sun, and relaxation. Waimanalo Beach is a five-mile stretch of white sand beach that Hawaii dreams are made of. We're planning to park and enter the beach at Waimanalo Beach Park which has a parking lot, bathrooms, and a big grassy area off to the left. Check out our Google Map for directions.
What you need to know before you go:
- Bring your Reef Safe sunscreen, snacks/drinks, and beach gear (towel, swim suit, beach chair, etc.)
- The bathrooms are, well, public bathrooms. On the bright side, there is a changing area available.